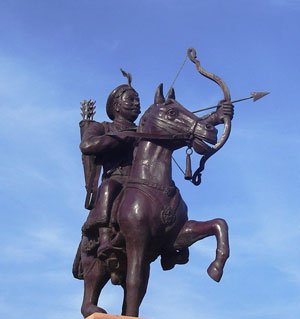 Prithviraj Chauhan
Prithviraj Chauhan, the king of Rajput Chauhan dynasty that ruled a kingdom in North India during the second half of the twelfth century. Prithviraj is famous in Indian history for his bravery and courage.
He was born in 1168 at Ajmer. His father was Someshwar Chauhan, the king of Ajmer and mother was Karpuravalli.
In his childhood, he killed a tiger with his bare hands. He defeated the king of Gujarat, Bhimdev only at an age of thirteen. His maternal grandfather Angam made him the King of Delhi for this extraordinary act of bravery. He built a strong Rajput empire and his empire was expanded mainly in the northwest of India. His empire included Haryana, Punjab, Rajasthan, and most of Uttar Pradesh.
His elopement with Sanyogita is a popular romantic tale in India. Sanyogita was the daughter of Jaichandra Gahadwal, an enemy of Prithviraj. Their love story is one of the subjects of the famous epic, Prithviraj Raso, composed by Prithviraj's friend and court poet, Chand Bardai.
Prithviraj Chauhan reconsolidated the rather confused kingdom of Vigraha-raja in 1165, by conquering several neighboring kingdoms. He made his state the domineering Hindu Rajput kingdom in North India. The Tomara Rajputs lost their hold on Delhi to Prithviraj and it was renamed Qila Rai Pithora. Prithviraj also fought and won the battle with Chandela Rajputs from Bundelkhand. His kingdom included much of the present-day Indian states of Haryana, Rajasthan and most of Punjab and Uttar Pradesh.
The Rajputs gained most of North India, despite the Muslim rule up to Punjab. The Rajput were a brave and chivalrous race and had control of most of North India, before the coming of the Muslims. The Rajput legend traces their ancestry to Bappa Rawal. He was the fabled founder of the race who is said to have lived in the eighth century. It was the Rajputs who held the center stage, before the first Muslim Kings invaded India around the latter half of the twelfth century.
In 1191, Mahmud Ghori was brought in chains to Pithoragarh, Prithviraj's capital, after the first battle of Tarrain. Ghori asked for mercy and begged for forgiveness. Although, Prithviraj's ministers had advised against exonerating Ghori, the valiant and chivalrous Prithviraj respectfully released the vanquished Ghori.
The very next year, in 1192, Ghori re-attacked Prithviraj with a stronger army and guilefully defeated him by attacking the Rajput army before daybreak and repaying Prithviraj's gesture. The Rajputs incidentally followed an ancient practice of engaging in battle only between sunrise and sunset. It was understood that before sunrise and after dusk, there was to be no fighting, as per a time honored battle code. Prithviraj was defeated and captured and taken to Ghori's capital in Afghanistan in chains.
As a prisoner, he was presented before Mahmud Ghori, where he looked at Ghori straight into the eye. Mahmud Ghori instructed him to look down, and a defiant Prithviraj contemptuously told him that the eyelids of a Rajput are lowered only in death. On hearing this, Ghori became furious and ordered Prithviraj's eyes to be burnt with hot iron rods.
After that incident, Ghori announced a game of archery, and hearing about this, Prithviraj, who had happened to be in court that he would like to participate. On hearing his suggestion, the courtiers laughed at him. Ghori further taunted him as to how he could take part in an archery competition when he could not see. Prithviraj told Mahmud Ghori that all he wanted was that Ghori himself should order him to shoot. .
Hearing this, Ghori became suspicious, thinking that he might try and escape. He then asked Prithviraj why he wanted him to order and not anyone else. Prithviraj said that as a king, he would not accept orders from anyone other than a king himself. Ghori was satisfied and agreed to do so.
On the day of the archery competition, Ghori was sitting in his royal enclosure. He had Prithviraj brought to the ground in chains so that he would not try and escape. On hearing Ghori's order to shoot, Prithviraj turned in the direction of the sound and fired his arrow. Ghori died instantly. However, Prithviraj was ordered to be executed for such a crime and to this day, he is considered to be a legendary hero and martyr.
Delhi was to remain under Muslim rule for the next 700 years until 1857 and under British rule until 1947. A few Hindu kings who came close to liberating Delhi during this period were Rana Sanga in 1527, Vikramaditya during 1565 [the second battle of Panipat], and the Maratha leader, Shrimant Vishwas Rao during the third battle of Panipat in 1761.
Figuratively speaking, the next Hindu head of state to actually preside over Delhi was to be the first President of Independent India, Dr. Rajendra Prasad, and Jawaharlal Nehru, who was the first prime Minister.
Prithviraj Chauhan is one enigmatic being who has a lot written about him, be it in history books, Amar Chitra Katha's, numerous websites, or just pure folklore passed down the ages in the form of stories, anecdotes and parables.