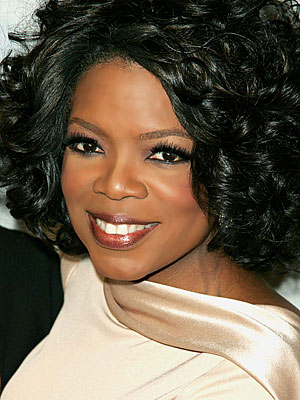 Oprah Winfrey
Oprah Winfrey, the great personality of the world. A renowned name in the world of celebrities has inspired people across the globe! Read about her life story here!
The black beauty has been a great source of inspiration for millions of people. She did not attain this worldwide fame in a day. She experienced innumerable sorrows and horrible days during her childhood. She had been a victim of sexual abuse and molestation by her relatives. Despite her sorrows and painful days, she rose from all those notorious label and became an inspiring personality.
Oprah Winfrey was born to an unmarried teen mother. She had her childhood in the Mississippi and was brought up by her grandmother in a farm. Her mother went in pursuit of a career (for a job) in the north. Her childhood was very sweet although the environment wasn't very luxurious. In spite of her primitive lifestyle, her grandmother taught her to read and write. The intelligent and blessed girl was able to read and recite poems and verses from The Bible. She wrote and recited bible - verses in community services. She enjoyed in abundance the love and care from her grandmother and the community church.
All her happiness vanished when she was 6 years old. Her life had a tragedy when she was taken by her mother to Milwaukee. Her mother worked as a servant maid in an apartment. The little girl used to spend her time in loneliness in her apartment until her mother returned from work. When she turned nine, she was sexually abused by her relatives. Since she was alone at home, there was nobody to care for her and protect her from the cruel men. Many relatives used to molest her and she became a sexually promiscuous girl at the age of 13. She ran away from home and started to live independently at the age of 14 years.
She had a male child when she was teen and the child passed away in infancy. She later left to Nashville to live with her father, where her life changed forever for good!
Her father was a strict man and helped her shape her life. He taught her all principles and disciplines of leading a beautiful life and the little girl got back her happy life after several years. She became Miss Black Beauty of Nashville.
She won the Miss Black Tennessee Beauty Pageant when she was 17 years old and immediately she was offered a job in a radio station. The job was intended to serve the American African Community in Nashville. In addition, she also grabbed the full scholarship from the Tennessee State University and she earned her major degree in Speech Communications and Performing Arts.
Her career in the field of broadcasting started off smoothly. She began as a reporter and an anchor in a television channel. She continued to study as well.
After moving to Baltimore, she co-hosted her first talk show called People Are Talking! This particular job suited her personality perfectly and she spread this show to other cities too. Very soon, in less than 8 years, the show became the hottest and most popular in the town.
In 1985, the colour and format of the show was changed and it was then renamed as the popular, 'Oprah Winfrey Show!'
Her talk show gained world-wide publicity and she interviewed great personalities of the world. She was a film producer, a philanthropist, an actress, and a publisher.
She became the richest personality and the most powerful woman of the millennium!