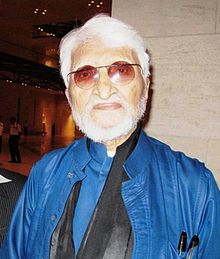 M F Husain M F Husain, or popularly known as MF, was one of the most gifted and celebrated Indian modernist painter of the 20th century M.F Husain's art was prolific in both technique and theme and he was widely known for his vibrant colored, bold, and narrative paintings in a Cubist style. He was immensely popular in India and was also popular internationally. It is said that he produced over 50,000 works of art in his career.
Husain's paintings were funny, caustic, somber, and sometime serious. His themes also were varied, as it was usually treated in a series. It included topics as diverse as the Ramayana to Mother Teresa, the British Raj to the Mahabharata, and motifs of Indian urban and rural society. Although his paintings depicted a violent understanding of the human condition, some of which caused some controversies.
Muqbool Fida Husain, (also spelled Hussain) was born on 17, September 1915, at a village in Pandharpur from the Maharashtra state of India. His father's name was Fida and mother's name was Zunaib. It is said that his mother passed away, when he was around three years old. His father however, remarried. His family moved to Indore from Pandharpur and it was there he had his primary education.
His association with painting began at an early age. He learnt calligraphy and also became an expert at the Kulfic Khat, another type of geometric art forms. He also learnt to write poetry. In 1935, at 20 years of age, he moved to Mumbai (Bombay), where he designed and started his career painting cinema hoardings, graphic billboard advertisements for Bollywood movies.
He had a tough time initially, but as the earning got better, he visited Ahmedabad, Sura, and other places in Gujarat to paint landscapes. It was during this time; he also tried various other jobs and worked in a toy factory. In the year 1941, Hussain got married to Fazila, and they had two daughters, Aqueela, Raisa and three sons. Out of three sons, while Owais and Shamshad were painters, Mustafa, was a restaurateur. Shamshad however, passed away sometime during October 2015.
Determined to become an artist, he soon joined the famous Sir J. J. School of Arts for one year.
In 1946, He was invited with five other prominent painters to join the Progressive Artists Group. This group was formed to explore a new expression for Indian art. This led him to make some remarkable works 'Between The Spider And The Lamp', 'Zameen and Man' etc.
He then visited various place and experimented with ancient Mathura sculpture and other ancient Indian miniature paintings. Obviously, this was a learning and turning point in his career as an artist. He began to assimilate ideas from the West and combined them with Indian art. In 1947, the Husain painting known as Sunhera Sansaar at the annual exhibition of the Bombay Art Society won him an award and marked his entry as a known artist.
It was during the period 1948 to 1951, he became popular as an artist. His series of all India exhibitions made him a well-known artist. His solo exhibition in Bombay, during the year 1952, was very successful. After that, during 1954, the Lalit Kala Akademi in New Delhi gave him the nomination as an eminent artist. In 1955, he won the national award at the Lalit Kala Akademi's first national exhibition.
A big mural of his that is around forty feet high and called the Portrait of the 20th Century, depicts all major personalities of arts, politics, dance, science, literature etc. Other significant works include Man (1951), Vishwamitra (1973), and Passage Through Human Space, and a series of 45 watercolors completed in the mid-1970s.
Besides painting, Hussain has also made a film 'Through the Eyes of a Painter' in 1967. This film went on to win the Golden Bear Award at the Berlin Film Festival. Since then, he has made several short films. Husain also directed Madhuri Dixit in a film called 'Gaja Gamini' and subsequently, he made another film 'Meenaxi: A Tale of Three Cities' with Tabu, another popular cine artist.
Husain, a secular Muslim, triggered wide criticism for his often-bold treatment of religious and sensitive subject matter. One of his best-known paintings, commonly known as Mother India, or Bharatmata, depicted a bright red nude woman contorted into the shape of the Indian subcontinent.
These paintings created controversy that led to Husain receiving death threats from extremists groups. After a series of long lawsuits and constant death threats, Husain moved to London in 2006 and spend the winters in Dubai in the United Arab Emirates. In 2008, when the Museum of Islamic Art opened in Doha, Qatar, it had a collection of 99 paintings by Husain. He also accepted Qatar's offer of citizenship in 2010.
This talented artist along with his persona generated much news around the world. Husain did not wear any footwear, went only barefoot, and wore only tailored suits. He rose to international fame from a humble beginning to become the highest paid painter in India. His single canvases have fetched in excess of two million dollars.
The Government of India honored him for his contribution to Indian Art. In 1966 he was conferred the Padmashree, and in 1973 he was awarded the Padma Bhushan. In 1989, he was awarded the Padma Vibhushan. In 1987, he was also nominated to the Rajya Sabha, or the upper house of the Indian Parliament. During his six-year term, he produced the Sansad Portfolio.
Despite all this, MF Hussain is an will always be considered as one of India's greatest artists.
M F Hussain passed away on 9 June 2011 in London.