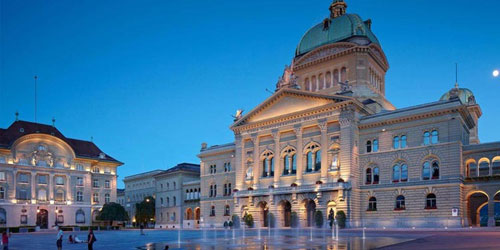 Facts about Switzerland
Switzerland is one of the richest, cleanest, safest, and most peaceful countries in the world. It is not surprising that it is called a traveler's paradise. The landscape is difficult to compare and about three fifth of the land encompassed by the Alps mountains. It is known for its delicious chocolates, high precision watches, and the hospitality of the local people. Travelers can expect a lot when they begin to explore and see the beauty of this nation.
It is a land locked country, bordered by Germany, France, Austria, and Italy situated in Central Europe. Switzerland is a neutral and peaceful country. In fact, it did not even participate in either of the two World Wars despite its close proximity to several of the war's players like France and Germany. It joined the U N only in 2002, although Geneva had served as the United Nations headquarters for many decades. The country is additionally the birthplace of the nongovernmental organization, Red Cross.
Switzerland has an area of about 40,000 square kilometers, and the country is home to over 8.2 million Swiss nationals, who are mainly of German, Italian, and French descent. Over twenty-five percent of the population are of foreign descent, and many of them are naturalized citizens. This diversity is proof of the neutral and peaceful culture of the state, which permits people of various ethnic nationalities to live harmoniously.
Switzerland is an exceedingly prosperous nation, having only around four-percentage unemployment ration compared to its European neighbors. It has a famous banking industry, creating it a haven for several investors. It additionally features an impressive pharmaceutical business primarily based in Basel, with top corporations like Novartis and Roche.
Travelers seeking to appreciate Swiss cuisine can notice that several items are mainly related to dairy produce. Swiss cheese, Swiss chocolate, Fondue and Raclette, and the well-liked Swiss beverage Rivella are all-dairy based. A lot of the cuisine is influenced by the nations neighboring Switzerland, and there are a whole range of delicious food items to be enjoyed. Foodies can take delight with the cheese from Guyere or the wine from Valais.
Some of the world's most delicious chocolates are produced in Switzerland, with brands like Toblerone, Lindt, and Sprungli to name a few. Switzerland is the birthplace of milk chocolate. It is here that the chocolate making process was refined. Process such as tempering, likewise the technology to combine chocolate and sugar.
Switzerland is also among the cleanest nations in the world. The water is incredibly refreshing because it comes directly from the mountains. There is also a very low rate of infectious diseases.
There are four recognized languages spoken in Switzerland and that includes German, with over sixty percent of the population speaking it. French, Italian, and Romanasch are also quite common. Most of the languages spoken in Switzerland have heavy influences of other neighboring languages, viz., the vocabulary, and way they speak. English is also widely spoken in many cities.
Taking public transportation is simple. The buses and trains are on time and quite reliable thus you do not have to wait around.
One of the common items identified with Switzerland is the Swiss watch. Switzerland is reputed to be biggest manufacturer of watches globally. Each brand has a niche segment in the market, some being preferred by pilots and divers. While others, treat is as a piece of jewelry. These have such a strong brand image, that it has virtually become a status symbol for many. Many buy it not just to tell the time but for the prestige, that accompanies it.
During summer, Switzerland is notable for its majestic mountains and breathtaking scenery, and it becomes a snow play land during winter. On its southern side are the Swiss Alps that it shares with its Austrian neighbors. On the northwest, is the mountainous region known as the Jura. In Valais, travelers can see the tallest peaks and the largest glaciers in Europe. The landscape of the country is diverse from rolling hills to giant lakes and some fertile plains.
One can travel to Switzerland during any time of the year, as there is so much to try and do. The place to be is the peak of the Alps during the summer time. This is where the famous Matterhorn is situated. There is a lot of hiking to be done, but come the winter, it becomes a winter playground. The Interlaken region and the Jungfrau region are the place to go, if you like river rafting, sky diving, or bungee jumping.
Sightseeing is pure pleasure in the Swiss capital Bern, which consists of old cathedrals and other heritage sites. Travelers will relish the cosmopolitan pulse of Zurich, the most important and largest city of Switzerland. There is also Geneva, where one could see varied cultures. Travelers can notice the slight nuances in its people, which are influenced by the country's neighbors, depending on the region they visit.
Some famous Swiss include Henri Nestle, chocolatier Philippe Suchard, milk chocolate inventor Daniel Peter, and watchmaker Georges Piaget. Then there is Daniel Bernoulli, the famous mathematician who founded Bernoulli's equation. There is also the philosopher Jean Jacques Rousseau, psychologists C.J. Jung and Hermann Rorschach and tennis player Roger Federer. There is the actress Ursula Andres and author Gottfried Keller, and the scientist August Piccarde to name a few.
While touring Switzerland, do not forget to pick up a few souvenirs that are Swiss made. Try getting a genuine Swiss watch, or a Swiss army knife, which will make a great gift item.