Amazing Facts » Awesome Facts And Trivia About Countries - Nepal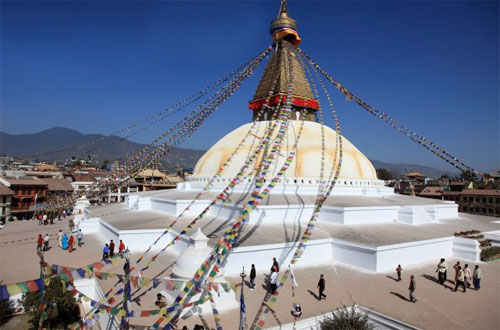 Awesome Facts about Nepal
Welcome to some useful and interesting trivia for kids and adults planning to visit Nepal.
The first thought for anyone visiting Nepal is that of the impressive and towering peak of Mount Everest. The peak is about 8,850 meters. Interestingly, over eight of the 10 world's highest mountain peaks are found within this relatively small country.
Although the world celebrated New Years on 1 January 2013, in Nepal the New Year's Day is on April 13, 2013 (according to the English Calendar). For them, this was the start of the year 2070! Talk about travelling to the future. Don't know what 2016 would be. 2073 perhaps?
Nepal opened its borders to the world in the 1950's. The population is a mix of Hindu [about 80%], Buddhist [10%], and the balance is made up of Christian, Muslim and other religions. Lumbini, in Nepal is also the palace where the Buddha was born. It is a pilgrimage center for many devout Buddhists.
Despite their religious ideologies, a very complex caste system dictates the lives of the Nepali people.
The population of Nepal is estimated to be 29.2 million as of December 2015. The total area of Nepal is 147,180 square kilometers according to the United Nations Statistics Division.
Nepalese or Gurkhas are considered descendants of immigrants from certain parts of Kashmir, Tibet, Kazak and some parts of Burma along with people from parts of central Asia. The major languages of Nepal spoken as mother tongue language include Nepali (80.6%) (National Language), Thru (5.8%), Tamang (5.1%), Nepal Bhasa (3.2%), and Magar (3.0%) and also some English.
One of the most common ethnic groups from the eastern mountainous part of Nepal are the Sherpas. They are mainly employed as porters for mountain expeditions. Many groups refer to their porters as Sherpas.
The people however, are very friendly and enjoy interacting with kids.
The Nepali staple diet is Dal Bhat, which comprises of a bland lentil soup and rice, and are eaten almost every day by the locals. More so, for almost every meal. A Tibetan dumpling that is stuffed with minced meat from chicken, Yak meat, or buffalo and known as Momo is one of the most popular and common Nepali foods. It has a small pouch like shape, and is instantly recognizable. Besides, it is very similar to other dumplings served across the Asian subcontinent. The locals eat it by dipping it in spicy chutney for an added kick.
Apart from some of the developed areas, running water in houses is a rarity. People line up outside public water taps sometimes for hours. Besides, the water is not safe for visitors to drink, so it is advised that they carry sufficient quantities of mineral water, which cost about half an US Dollar.
Although Saturday has been declared the only official weekend day, people also get a half day-off on Fridays, in certain areas. Sunday however, is considered as a normal workday.
Nepal has the densest concentration of World Heritage Site with over seven World Heritage Cultural sites in the Kathmandu Valley in a radius of close to 15 kilometers.
Black outs, commonly called load shedding is very common here, and which last up to over 16 hours every day. People plan their day according to the load shedding schedules. However, it is really hard for businesses to be productive when they cannot turn on the lights, run machines and on so. Another rarity is hot water. Most places have heated water with solar panels. In other words, limited quantities of warm water are usually available during the nights after a warm day.
If you are not put up in a five-star hotel, don't expect to sleep well at night (particular foreigners). Indians and other Asian countries are quite used to this kind of din. The beds are usually rather hard with lumpy pillows. There would be din throughout the night that includes nightclub music, barking dogs, thin curtains, loud roosters, early sunrises and traffic (cars honking away). This however, is common in most Asian countries.
Nepal's telecom sector has seen a tremendous growth, and has nearly 20 million mobile phone users with mobile internet increasing rapidly. Over 98 % of the people have access to telephone services.
There are very few Western stores here, and the few foreign food chains include, KFC, MacDonald's, Baskin Robbins, and a few others. However, foreign brands are very familiar in super markets.
The roads are generally terrible with gigantic potholes and where the asphalt has partly given way to dirt. Although they are going through a huge infrastructure reconstruction plan, it remains to be seen when it will actually be completed.
Sometime during June 2001, the heir to the throne massacred the Nepali royal family. He eventually shot himself after the nine members of the family had been killed. This included the king, the queen, and other relatives. Funnily, the murderer survived for a few days, and was the king declared king during that period. However, many Nepalis cannot come to terms with the fact the son could have committed such a crime, despite eyewitness accounts.
The most popular game in Nepal is the carom board. It is similar and a very small version of pool, where you have to put checker-type carom pieces into the corner holes.
There are many counterfeit goods here, especially companies that make outdoor gear. Funnily, you can embroider anything (and for cheap too). However, the waxy table napkins are like tissue paper, meaning they are not absorbent at all and are basically useless.
Cows are considered sacred and often wander the city, eating and munching on just about any vegetation and trash they can find on the road. Used bookstores are also very common.
Most people have another bad habit, which is spitting, although it is nothing compared to that of China and India.
These awesome facts and information presented is interesting and serve kids and adults on an overseas trip to Nepal. Do visit us every week to read more facts about new countries.