Kids World Fun Home »
Rhymes for Kids
Rhymes Do The Magic. They help improve English skills as well as the values of life right from the beginning. Rhyming poems and animated nursery rhymes for kids are funny and win the attention of kids quickly. Every rhyme is catchy. Kids love the way it rhyme, the rhythm in it. The rhythm between the words and sounds that repeat in regular intervals encourage kids to remember words, which eventually help improve your kid's auditory memory, music, and reading skills.

Are you a nursery teacher or does your kid learning English?
Well, if you are a teacher then you must be thinking of ways to manage your kids and at the same time get some fun into your class. The best mantra for you is rhyme poems. These nursery songs are very engaging. Not only they smoothly narrate about the plot, they also add that musical aspect which is charming enough not to forget ever. The kids nursery rhymes help them avoiding getting lost or tangled in the actual plot while enjoying them to the fullest.

Add more fun to your class using these nursery rhymes and animated rhyming videos for kids. Rhyme poems, EXPLAIN the STORY in it, SING and DANCE, show ACTIONS that catch the attention of children. Rhyme poems easily and quickly grasped by the children.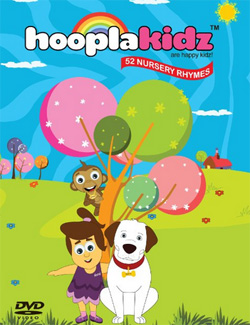 Get the Rhymes DVD
HooplaKidz Nursery Rhymes Premium DVD Set
| Short Poems | Christmas Poems |
Get the latest in your Inbox for free.