Toys Games » Zephyr Alpha Numero Jar 1 - Toy Game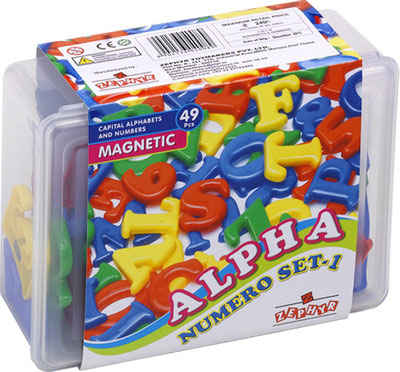 Zephyr Alpha Numero Jar 1 - Toy Game
Alpha Numero magnet set contains the magnetic alphabets and numbers.
The claims – Learning can be more fun and entertaining with magnet alphabets and numbers.
The kit contains capital alphabet letters and numbers, attached to a magnet. The letter and numbers are colorful, which surely attract the kids. They can be grasped easily by kids, neither too small nor too big. The bold shapes let the kids easily identify the alphabets or numbers.
This can be used as a basic educational kit to teach the alphabets. For instance, you can just ask them to pick the alphabet you say! They are safe, no sharp edges and made of non-toxic materials.
Parents can use this to teach the spelling of the hard words with this kit.
The negative element is the magnet itself! The magnets are too small, not glued tightly to the plastic and they may fall off easily from the toy. Kids may accidentally swallow it, when they are not supervised while playing.
Kids can have fun time arranging the alphabets in order or rearrange, or create words, sort them by colors, and there is plenty of option they can have fun combined with learning!
Supervision is needed!