Toys Games » United Toys – The Human Body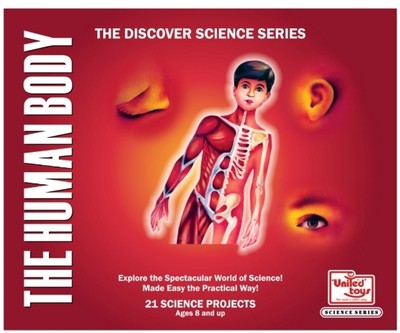 United Toys – The Human Body - Toy Game
Learning science practically gives us a lot of knowledge and makes it more interesting and easy.
Here is one interesting learning kit for children to learn in details about the human body. Named the 'The Human Body' the kit contains cards and projects so we can learn more about our human body in detail.
The kit contains 32 colorful flash cards and objects to experiment and explore various projects related to our human body.
Suitable and ideal for children aged 7 to 14 years. It is necessary that the child should possess the basic knowledge about the various parts, internal and external organs of the body to learn from the educational kit. The kit comes with a detailed instruction manual. This makes a great learning kit for students who love science or who simply want to learn in detail about the organs and its functions.
This science learning kit gives a great understanding about the human body. It teaches about anatomy, organs of men and women, functions of organs, etc. For instance, an experiment with balloon tells us how lungs function.
May be an ideal beginning to start learning about human body to become a doctor in future!
A nice safari to explore the body made easy, simple and practical! A good buy!