Video Games » Tom and Jerry Tales – DS, Games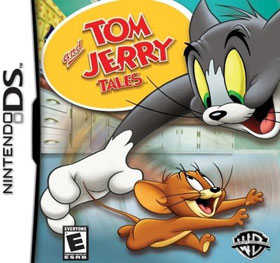 Tom and Jerry Tales
Who does not love the funny classic tales of Tom and Jerry? The cat and mouse catching game fun never ends! Although Tom chasing Jerry for years, the craziness of this catching play remains fresh and refreshing.
The typical Tom and Jerry tales are back in form of video games for kids. The game is designed with a funny theme. Jerry lives in a house. Tom has stole Jerry's favorite cheese when everyone were out for a picnic. Also, Tom set traps all over the house to catch Jerry. Now, it's your turn to help the little Jerry. Play to help Jerry run through the holes, discovering the traps and escaping from the dangerous encounters. Also, you can make Jerry recover all the cheese as you help him.
Tom is not an easy cat to deal with. He has set some sneaky traps and hard obstacles to confuse you! So, you have to be wary in finding the right solution. At the end you can help the Jerry to kick out Tom from the house.
This is concept pinned around the video game. As stated, there are some interesting and difficult traps to carefully overcome. The animation is good, quality of sound and pictures are clear. An interactive game to give a boost to your brain! Kids will definitely love this chasing game.
The cool video game is produced by Warner Bros, the notorious name in the industry. Although it may cost a few bucks more, it really worth the money.