Video Games » Sports Champions (Games, PS3)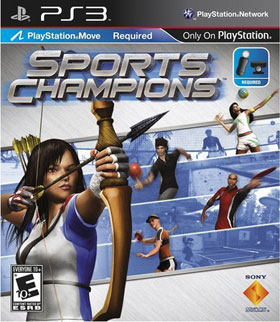 Sports Champions
port champion is an interactive game for children.
It has 6 different games set up in different atmospheres. Various interactive events include Beach Volleyball, Disc Gold, Bocce, Archery, Table Tennis and Gladiator Duel.
Each game is developed with its own features and gestures, maintaining the essence. Also, players are assisted with guidance to play perfectly. An interactive and exciting gaming experience is provided from beginning to end. There are a few video games that focus on single game for children. For instance, beach volley ball game in different environments and with different teams! The game is so versatile that each game is unique from the other.
The games have how-to training sessions which provide comprehensive information about how to play. The game can be played with single controller or multiple controllers as the player would like. You can enjoy it as a single player game or multiple players. You can choose up to 4 players.
Graphics, presentation of the games, sounds and overall experience is good. Combination of different genres of games in a single pack gives a healthy gaming experience and of course, variety. Besides all, the Sports Champion is not merely a video game for children where kids sit back, enjoy and have fun. Kids will enjoy in physical activity, which gives a feeling of hardcore workout in gym!
Sports Champion is compatible with PS3 platform. You can download the updates using PS3 online platform.
The cost is relatively cheap and it makes a good buy for the money! Probably, it is a must to have collection if you have PS3 gaming console.