Toys Games » My Toy Factory – A Science Based Toy Making Kit from MadRat Games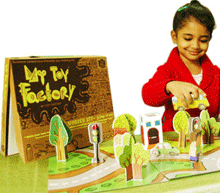 My Toy Factory – A Science Based Toy Making Kit from MadRat Games
MadRat Games, known for its creative and entertaining games came up with yet another innovative and inventive gaming set for kids.
My Toy Factory, claimed as a science based toy making kit is a kids-friendly DIY set. Suitable for kids in the age group of 8 to 14 years, My Toy Factory is a game of creativity.
The kit comes with 10 sheets of instruction manuals on toy making, 8 sheets of manuals on making a toy city, a manual on making a toy factory, a toy kit, an ID card and a story journal. The simple and creative board game is unique of its kind as it fosters the little minds to go creative. Besides, it also teaches the little ones to give importance to the tiny objects.
The toy factory is an eco-friendly game.
The positivity of this gaming set is it imparts the value of recycling and reusing the materials in kids. Again, the game provides unlimited choices to rebuild reuse and reconstruct the various objects with the kit!
If your child gets bored very often or if you need something to keep your child busy for a long time other than television and video games, My Toy Factory will be a good choice.
Children can spend their quality time with fun combined with learning something.
This is not for toddlers and not for children under 8 years. Underage kids will certainly mess it!
Most importantly, girls will love it and may not be a suitable one for boys! In overall, a good value for money.
Buy My Toy Factory – A Science Based Toy Making Kit from MadRat Games