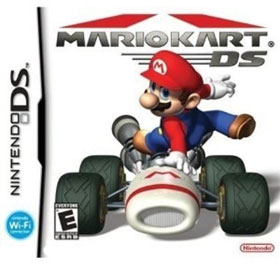 Mariokart DS
Mario has been a part of the lives of 90s kids. Mario - The tiny man with bushy mustache!
The super hero of the 90s stilled remembered by the children of the technology era. Mario games remain still popular among the kids.
The little Mario has been reproduced in many ways to attract kids. Mariokart, the Nintendo DS game is one such version of the super hero.
Well, it is nothing but a simple racing game but with Mario. You can pick up to eight cars to race. There are totally 8 characters including Mario. There are more than 30 race courses to compete in this game.
You can choose the courses tour to race. To name a few race tours, Mario Kart 64, Super Mario Kart, Super Mario Circuit, etc. The game is developed with innovative arenas and tracks. You can simply develop the dimension of the game. The graphics are good but not so excellent. This will be loved by Mario Kart's fan and fan of racing games.
With various modes availability, namely, battle mode, knock out mode, time trial mode, etc the game can be made very interesting. This isn't a hard core kart game, yet there are plenty of options available to customize the racing options.
The special feature of this game is it is wireless! Players can connect and race with others by connecting to the wireless gaming service of Nintendo or even with a wi-fi.
The price seems to be a little bit higher when compared with the extremely eccentric kart video games for kids. However, this is an interesting one.