Video Games » Madagascar 3 : The Video Game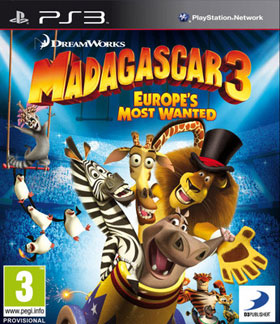 Madagascar 3
Marty, Alex, Gloria, Melman – Hope you have heard these words somewhere, rather would have seen it.
They are the core, interesting and fun characters of the movie series, the Madagascar! Considering the massive success of all three releases of the movie, Monkey Bar Games developed this PC game inspired by the main characters.
Marty – Zebra with unique stripes (it is just called so)
Alex – The New York Zoo Lion that know how to dance like a rock star
Gloria – The most beautiful hippo in the world
Melman – The man who adores Gloria
If you have seen the movie, you would love these characters. This game is an adventurous one! Now follow and continue the adventures of these crazy pals in this video game series. They go on a very exciting and of course a crazy adventure.
Marty, Alex, Gloria and Melman were caught by the evil Captian Chantel DuBois. They try too hard to escape from the evil hands and move back to New York. You can do any character you want and join the crew to find the way back home. The journey will take you on-board where you will travel across various countries including European Nations.
In addition to the core characters inspired by the movie series, new characters are introduced. They are, Stefano a sea lion, Vitaly a Tiger from Siberia, Gia a Jaguar and Sonya a Bear.
This isn't an easy game to play. It needs a lot of techniques to work out to find the way back home. And this particular concept makes the game an interesting one.
Remember this is not a PC game and it is compatible with PS3 platform. You can get the updates and upgrades using the PSN network.
Price is neither too high nor too cheap. I can say, it is reasonable for such an interesting game. Children could dwell in for hours, so be a little wary.