Toys Games » My Toy Factory – Let's Shop Board Game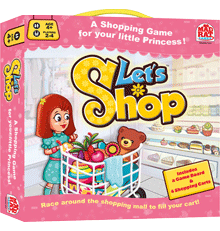 Let's Shop Board Game
Let's shop girls! As the name indicates, this would be an exclusive board game for Girls. MadRat designed a beautiful board game with shopping as a theme combined with learning new things.
This board game is all about shopping around the mall, identify the items in your lists, filling the baskets before you friends and emerge as a shopping queen! Although it appears a bit clumsy that girls are shopaholic, little girls can learn a lot about various things they see quite often in the daily life. From candies, chocolates, costumes, groceries to toys, the shopping mall is filled with all essentials. The board game has interesting surprises for the players!
The game has 1 shopping board, 4 shopping carts, 4 princess pawns, 1 dice, instructions and rule book and a set of item cards.
Throw the dice, move yourself as a princess on the shopping board, collect as much as items in your cart and enjoy the gamey shopping!
Parents can sit with the child and teach them about the names and uses of various products they use daily. The product claims to improve memory, but this is just about having fun with friends.
This board game is suitable for kids above age of 4 years.
It is nothing better than a simple board game; still it will be a complete entertainment for little girls!