Toys Games » LeapFrog Letter Factory Phonics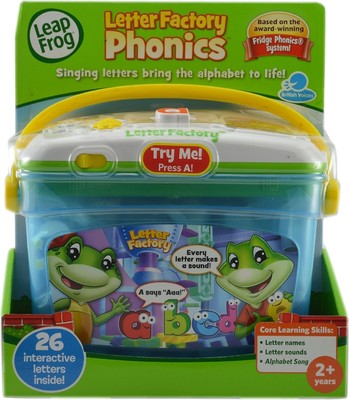 LeapFrog Letter Factory Phonics - Toy Game
Among the plenty of educational toys and games for kids, this is a unique one. LeapFrog is famed for its numerous educational games for kids. This is one of the amazing conceptions from LeapFrog.
A singing toy to learn alphabets!
The letter factory provides a fun and interesting way to learn the alphabets and phonic skills.
There are 26 alphabets. The kit contains a factory, the basket which holds the alphabets. When a letter is placed on the basket, the basket plays the equivalent sound and name.
It is very interesting. The kit is a great system to begin learning phonics and alphabets.
Also, it is an award winning toy, where millions of children successfully practiced their phonics with ease. It will be great value addition to the kinder garden or preschool kids who learn alphabets.
The entire kit comes in a nice plastic pack, which makes the storing the letters and basket easy. This is a battery operated toy. Suitable for kids aged 2 + years.
Price of this letter factory phonics is a negative element, as it is overpriced when compared to the similar kind of educational / learning toys available for kids.
However, the quality is extremely good, music is fun and kids will love it. Also, it makes a great option of gifting a child!