Video Games » Don Bradman Cricket 14 (Limited Edition)(Games, PC)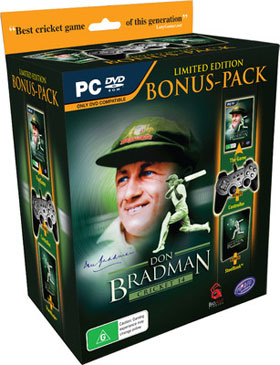 Don Bradman Cricket 14
Cricket, the universal game loved across the boundaries. There are thousands of craziest cricket fans across the globe. Something that is very unusual about this international game is even the kids love it. Obviously, there could be no reason that children don't love the cricket video game.
Don Bradman Cricket, the limited edition is one of the entertaining video game for children.
In this game, the pitch condition, weather forecast, accurate time, etc are introduced as new elements, which make it quite unique from many cricket video games. It provides the virtual playing experience. Kudos to the graphics and overall presentation of the game. It is so amazing. The game has single player and multi player options. The gaming system is designed with real word information.
You can customize all options in the game, from choosing the player, country, group, mode of game, etc. The gaming experience can be enhanced by downloading various group / community / country of players and teams available online.
The real time graphics will give you the sensation of real-time play in a playground. Besides an entertaining cricket game, this game also teaches about the rules and principles of cricket. It aids in virtual learning about various crucial elements of cricket.
This video game is compatible with gaming consoles as well as a computer. Playing cricket indoors is made completely fun with this game. It is an All-in-one cricket game; after all it is named after the God of the cricket.
Definitely a good buy and cricket lovers may really not consider the cost when compared with the user experience.
A word to note. Not just kids will love them, but also the elders!