Video Games » Cooking Mama : Cook Off (Games, Wii)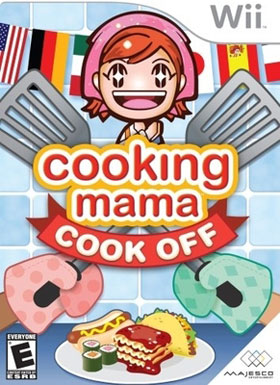 Cooking Mama
Cooking is a relaxing activity. Cooking games are loved by many. Cooking Mama is a popular series of video games for children.
This is a stimulation game. This can be played as a single player game or 2 player game. Cook off a new and interesting version from this series. This game is a blend of all activities performed in a kitchen, namely, slicing, chopping, blending, mashing, stirring, garnishing, etc. The players can create hundreds of real as well as imaginary recipes. The recipe index contains more than 300 recipes from various countries. Besides cooking different recipes, the cooking mama cook off game can be played as doubles. The game offers 2 player game, where the winner is determined based on how well and how soon the food is cooked.
This may appear very simple. However, the Cook Off game is an exciting cooking game. Real time graphics, interesting themes, real-time effects of cooking, colorful representation, clear and vivid pictures, etc makes this game very interesting one. The concept is built based on the real cooking dimensions, so kids can learn about cooking stuff. Kids can learn some important cooking terms and methods of cooking. It allows the player to choose the characters belonging to different countries.
This is definitely an entertaining game for children. Of course, a girly game!
It is a Wii game and compatible only with Wii video game console. The price may be high as similar cooking games are available at low price!